See how Sherlock Waste brings real benefits to Decathlon
Customer: Decathlon

Number of employees: 3500
Industry: retail
Sector: sport and turistical gear
Duration: Sherlock Waste was implemented in 2020
What was the company's problem?

Decathlon believes that employees best understand the problems in their daily work and that they are the right source of ideas to solve them. The company knows that it has many young, creative people who have great potential. The company realizes, however, that it is not making proper use of these resources. Therefore, Decathlon decided to give employees the opportunity to share not only ready-made solutions but also to go further and enable them to inform about existing problems.
Applied solutions

The company decided to implement a pilot test of the Sherlock Waste application in the Decathlon Targówek store. In principle, this action was aimed at improving communication between the branch manager and his employees. The response to the problem was to take place immediately – the employee who noticed the problem could report the situation in a few seconds using his mobile phone, and this information was immediately sent to the person responsible for it.
What are the results of work with Sherlock Waste?
Owing to the implementation of the application, the company admits that it has managed to solve dozens of very important problems in the company. The notifications addressed such issues as:
– Deficiencies in the small supplies for workers, who needed them to perform daily duties. In order to avoid such situations in the future, the necessary materials were ordered and a new work organization was established.
– Air conditioning did not work during night shifts. The building administrator prepared appropriate instructions, owing to which the duty manager could start the air conditioning on his own.
– Customers' questions about fitting rooms, the scale of which was shown by the app function "I have the same". To solve this problem, the team proposed several important solutions that were implemented not only in the branch but also in other locations.
– Delivery distribution method. 8 ideas for improvement were ultimately proposed by the employees. Even though not all of them were introduced, the efficiency of the team increased from 150 art/h to 200 art/h. The implementations enabled the employees not only to save several hours during the day but also significantly influenced their satisfaction with the day spent at work.
Owing to the Sherlock Waste app, we will first be able to release the potential of young, creative people in teams. Secondly – we can move from the creation stage to the stage of sharing not only solutions but also problems. And thirdly – it is an opportunity to positively influence our financial result

Miłosz Fengler, Regional Operations Manager
About Decathlon Polska

Decathlon is an international chain of sports stores offering clothes, articles, accessories, supplements and equipment for 86 sports disciplines. Decathlon is also the second largest manufacturer of articles in this industry. The first store in Poland was Decathlon Targówek, which opened in 2001. Currently, 60 company branches are located in various parts of our country.
---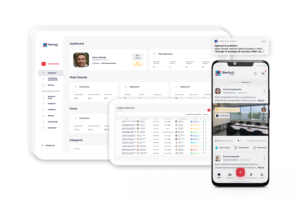 Do you want to learn more about the possibilities of eliminating waste, increasing the effectiveness of teams or increasing job satisfaction in your company? Contact us, together we will create a ready plan to be implemented in your company – click here
You can also make an appointment directly – chose the date